Swiss-Chinese cooperation in testing and certification
Visit by a delegation of CQM in Switzerland
In the scope of its IQNet partnership, SQS disposes of a global network of cooperation partners. Thus, it enables SQS the use of unique advantages to customers when it comes to recognized audits, certificates and to overcome barriers of market entry or simply about the right contact partners in China.
Already around the turn of the millennium, SQS has established a partnership with the two leading Chinese testing and certification bodies – the CQC (China Quality Certification Center, Beijing) and the CQM (China Quality Mark Certification Group, Beijing). These two testing and certification bodies dispose of a complete range of certification, testing, controlling, evaluation and training which are of importance and benefice for market access, market entry, for competitive environment and for further development.
Under this partnership, a meeting between CQM and SQS took place in Switzerland on June 15, 2015, to strengthen further cooperation.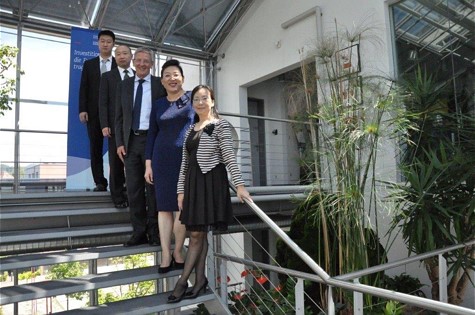 From above:
Chen Peng (Director International Affairs), Xue Bing (Director International Affairs), René Wasmer (SQS), Ji Xiaodong (CEO), Gao Min (Director CQM Branch)